THE

SUCCESS

OF THE ATTRACTION

STARTS

WITH THE INSTRUCTORS!
The success of the wave starts with the instructors and the experience they provide guest. This wave training specialist program & qualification course sets up your attraction for future success!
Staff members will participate in schedule staff training clinics throughout the short term or long term programs. The program will cover the following:
a. attraction cotrol & Awareness
b. Entry Level Operating Procedures
c. Detailed Training Techniques
d. Basic to Intermediate Level Ride Training
e. Basic to Intermediate Level Riding Coaching
THIS INFORMATION IS BASED OF KNOWN WAVE MANUFACTURE OPERATIONS AND TRAINING MANUALS. INCLUDES INFORMATION FROM ACCREDITED AQUATICS OPERATIONS AND LIFEGUARD CERTIFICATION PROGRAMS. KNOWLEDGE AND EXPERIENCE THROUGH NUMEROUS YEARS COMBINED BY OUR PROGRAM CONTRIBUTORS
COMMON challenges ASSOCIATED WITH THE WAVE ATTRACTION AND STAFF TRAINING
Wave manufactures are required by contract to complete a basic overview training and provide an operation manual when completing a project install and before opening to public operations.
IT IS THE VENUES OBLIGATION TO PROVIDE PROPER TRAINING, CONSISTENTLY UPDATE AND ADAPT THEIR OPERATIONAL AND TRAINING METHODS AS WELL AS offer ON-GOING TRAINING PROGRAMS TO IMPROVE THEIR TRAINING STANDARDS. BASED ON THE HISTORY OF THE INDUSTRY, many locations employees or staff members may be limited to part time or seasonal hire and suffer from constant employee turnover, requiring new hire training or filling the position with a random lifeguard.
Ex: hire high school, young teenagers, college students, parents, tour competitors, pro riders. In both scenarios, training methods are not provided in depth, details are easily lost in translation and all proper procedures and training techniques soon become non-existent.
Failure to properly train your staff or hire experienced personnel will expose the venues, instructors and guest to notable risks, serious injuries, and poor experiences.
Without the proper knowledge and training instilled at the core of your team, you will be faced with countless challenges along the way. We are here to help you reach the potential of the sheet wave attraction & Operations.
cci sports has created and are continuing to develop structured training programs and on-going training content designed for sheet wave attraction operations. check out our various program offerings from hands on training to digital content.
Employing well trained, QUALFIED, experienced guards is an effective way to IMPROVE:
Without the proper knowledge and training instilled at the core of your team, you will be faced with countless challenges. It is the venues obligation to provide proper training, consistently update and adapt their operational and training methods as well as on-going training programs to improve their training standards.
CCi Sports emphasizes the importance of continually reviewing and improving education and training, to ensure the development of quality programs that meet consumer needs and provide consistent training.
CONSISTENCY IN TRAINING WILL LEAD TO LOWER RISK OF INJURIES AND A MORE ENCHANCED CUSTOMER EXPEREINCE.
Wave venues fail because of lack of staff training, injuries, or basic understanding of the full potential the attraction has to offer. Employing well trained, professional, experienced flow guards is a proven way to provide a better guest experience, prevent injuries and other tragic incidents.
Everybody rides! We want instructors to be able to provide the guest with a great experience. The goal is for them to get back in line, improve each time and generate repeat customers!
Staff members will participate in schedule staff training clinics throughout the short term or long term programs.
Trainees will woRk daily operations under the supervision of CCi Sports Instructors to gain real time experience and evaluate daily operations. If private lessons, wave rentals or group sessions are offered, Trainees will also have opportunity to shadow during these times.
instructors and daily operations will be EVAluated; feedback AND DETAILED REVIEW WILL BE provided to management.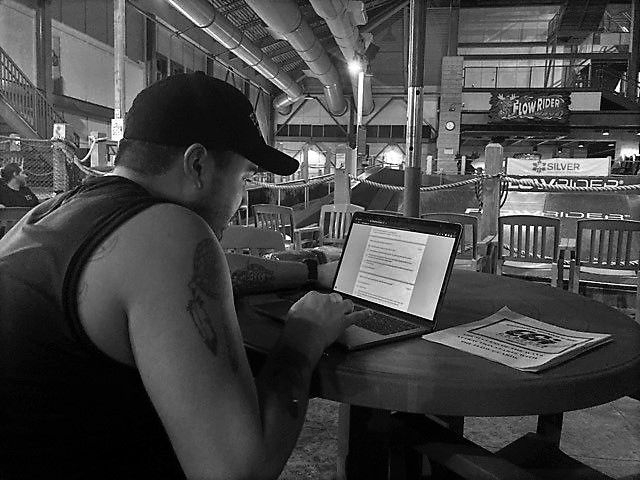 VENUE CLUB STAFF MANAGERS AND INSTRUCTORS CAN TUNE INTO ONLINE ZOOM CLINICS HIGHLIGHTING TRAININIG TOPICS, TAKE ONLINE ASSESMENT TEST AND BENEFIT FROM MORE DIGITIAL TRAINING CONTENT.
Does your venue host a summer camp? Take it to the next level with an appearance from the CCi Sports Pro Flow Team and Expert Instructors! We will implment our Instructor Shadow Program and give the campers an enhanced experience they will never forget!
GAIN ACCESS TO DIGITAL TRAINING, ONLINE COURSES AND OTHER PREPARED CONTENT RELATED TO THE SHEET WAVE ATTRACTION FOR NEW HIRES ON GOING STAFF TRAINING & OPERATIONS.
Have basic questions? Or not sure how this sports club benefits you, schedule a FREE consulation.
Take it from our club members, their words, not ours!
"IMAGINE BEFORE LIFEGUARD CERTIFICATIONS WERE CREATED. SURE, MAYBE YOU HAD SOME PEOPLE SITTING AROUND THE POOL, WATCHING KIDS. BUT NOW EVEN A 16-YEAR-OLD CAN BE ON THE STAND WITH KNOWLEDGE THAT HAS THEM RECOGNIZING POTENTIAL DANGERS, TO EVEN PERFORMING CPR AND SAVING SOMEONE'S LIFE, IF NOT PREVENTING IT ALL FROM HAPPENING IN THE VERY BEGINNING.

THIS IS THAT TIME FOR CCI SPORTS AND THE HIGH-POWERED WAVE MACHINES. AS OF NOW, THERE IS NO COMPREHENSIVE OR STANDARDIZED TRAINING FOR THE SHEET WAVE ATTRACTIONS. WHICH IS VERY SURPRISING CONSIDERING ITS LIABILITIES AND RISK IN COMPARISON TO A LAZY RIVER OR CHILD'S SLIDE.

"THEY ARE PUTTING TOGETHER EXTREMELY THOROUGH AND INCREDIBLE MATERIAL TO BRING WAVE OPERATORS UP TO A LEVEL THAT IS CREDITABLE AND EMPOWERS THEM TO HELP EVERY RIDER SUCCEED EASILY AND SAFELY."

With the help and support from the team at CCi, our guest experience immediately enhanced while our staff members learned proper training techniques and increased their riding skillset.

By completing this program, we have set a standard for our operations, safety and experience related to the attraction, setting us up for future success!

"MAKES THE TRAINING PROCCESS FUN!"

"Excellent instructors with all levels, would highly recommend this staff"

"WITH THE HELP AND SUPPORT FROM THE TEAM AT CCI, OUR GUEST EXPERIENCE WAS IMMEDIATELY ENHANCED WHILE OUR STAFF MEMBERS LEARNED PROPER TRAINING TECHNIQUES AND INCREASED THEIR RIDING SKILLSET…. I NOW HAVE A FULLY TRAINED WAVE TEAM I CAN BE PROUD OF!"
join the club

as a WAVE venue
CCi Sports emphasizes the importance of continually reviewing and improving education and training for instructors, to ensure the development of quality programs that meet consumer needs and provide consistent training. qualfied & expereienced instructors will lead to more repeat customers - Our success, is your success! CCI SPORTS TEAM HAS CREATED AND ARE CONTINUING TO DEVELOP AN INTERNATIONALLY STANDARDIZED TRAINING, COACHING AND BASIC OPERATING PROGRAM TO COVER MOST, IF NOT ALL ASPECTS OF SHEET WAVE ATTRACTIONS. AS WE CONTINUE TO EDUCATE AND OFFER ON GOING TRAInING PROGRAMS AND STANDARIZED TESTING WE WILL BE SUBMITTING OUR TRAINING QUALIFICATIONS PROGRAMS TO AN ACCREDIATION PROcess TO STANDARDIZE THIS TRAINING WORLD WIDE; we WOULD LIKE TO HELP YOUR VENUE OPERATIONS AND STAFF TRAINING TECHNIUES TO FOCUS ON SAFETY AND ENHANCE THE GUEST EXPERIERENCE. BY JOINING THE CLUB AS A VENUE, YOU WILL HAVE ACCESS TO DIGITIAL TRAINING CONTENT, ON GOING TRAINING PROGRAMS for your staff members AND GET THE BEST BANG FOR YOUR BUCK BEFORE THIS BECOMES A MANDATORY CERFITICATION FOR ALL OPERATORS.
Free Consultation Call

$500 UP FRONT RETAINER

NO SERVICE DISCOUNTS
BASIC CLUB MEMBERS $250/YEAR
Free Consultation Call

$250 Onboarding Retainer Fee Access to Digital Training Content

Access to one online training courses

Single Service Discounts

Package Service Discounts
PREMIERE CLUB MEMBERS $500/YEAR
Free Consultation Call

No Onboarding Fees

Access to Digital Training Content

Assess to Online Courses

Combined Servicing

Incentives, Prizes, Rewards

Display CCi Banner at venue

Can establish club team

Discounted services - pay as you go

Sponsorship Opportunites

Members before March 2022

Training Tour 2022 site

Pop up Event/Competition Hosting Site
So Kind. So Helpful. So Professional

Level of attention, kindness, professionalism, and education is exceptional.

Makes the learning process fun

The staff are all very helpful and know what they are doing to help teach you to progress in both your training techiniques and personal riding skills.

Efficient, Effective and Passionate

The new instructors in the facility are night and day to previous visits to the waterpark. We are grateful you took these steps to improve the guest experience.
This program has been designed to serve as introduction to wave attractions, operational; instructor training and flowboard/bodyboard coaching programs.
Completion of this program, together with a current CCi Sports Club Membership, is required to be a qualified instructor and/or coach.
By joining the CCi Sports Club and obtaining a qualification certificate from the program will:
List of Benefits:
1. Efficient Job Performance, Staff Evaluaions
2. Job Opportunities/Resume Reference
3. Access to On Going Training and Digital Con
tent
4. Coaching and Clients Opportunities
5. Club Perks and Discounts
PARTICIPATE IN TRAINING CHALLENGES, PROGRESSION SESSIONS, DIGITIAL TRAINING AND MORE TO LEVEL UP IN STATUS AND EARN PRIZES AND REWARDS!
TUNES INTO OUR ZOOM CLINICS AND GAIN ACCESS TO DIGITAL TRAINING CONTENT.
ENTITLED TO DISCOUNTED CCI SPORTS TRAINING SERVICES AND CLUB SPONSOR DISCOUNTS!
LEVEL UP THROUGH OUT TRAINING PROGRAMS AND WE WILL PROVIDE YOU WITH A TRAINING CERTIFICATE AND LETTER OF RECOMMENDATION FOR JOBS RELATED.